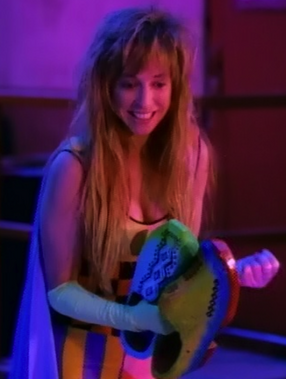 Zoey Clark (Corinne Bohrer) was a minor villainess in the 1990 episode "Trial of the Trickster" for the TV series "The Flash". She later reprised the character of
Prank
in the 2018 episode "The Elongated Knight Rises" for the TV series "The Flash".
Zoey is a spoiled brat, and heiress to the Clarx Toys fortune.
Zoey is obsessed with the James Jesse, aka, "The Trickster" (Mark Hamill).  She sends him love letters that clue him into the fact that someone is planning to break him out of court.  Zoey appears in court with a windup teddy bear which fills the room with laughing gas and escapes with Jesse.
She then became his loyal sidekick, the second Prank.  She has the money and gadgetry to assist him, and therefore, Trickster uses her wealth to finance his evil schemes.
Trickster and Prank capture the Flash (John Wesley Shipp) by spraying gum from the back of their van.  The Flash gets stuck in the gum and they plan to brainwash him.  In this scene, Prank wears a nurses outfit and the Trickster a doctors outfit.  The corrupted Flash becomes the Trickster's favored sidekick and she is locked and tied up in her own toy store for complaining about it.  
Despite her best efforts, the Trickster has lost interest in Prank, and ultimately boots her out of the getaway truck that they are in, resulting in her arrest.
Ironically Zoey at one point claims to be pregnant with the Trickster's child. This foreshadows Corinne Bohrer reprising this role, sort of, on "The Flash" in 2018 as the mother of the second Trickster.
Corinne Bohrer appeared as Wanda Andrews in a 1992 episode of Murder, She Wrote.
Corinne Bohrer appeared as Bobbie Burton in the 1994 episode "Reunion With Murder" for the TV series "Diagnosis Murder".
Corinne Bohrer appeared as Zoey Clark in the 2018 episode "The Elongated Knight Rises" for the TV series "The Flash".
Community content is available under
CC-BY-SA
unless otherwise noted.