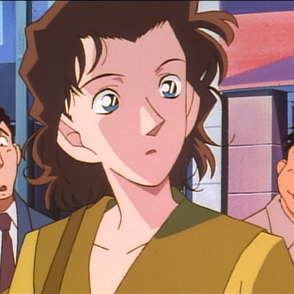 Yumi Horikoshi (Kazuhiro Yamaji) was a hidden villainess from "Kogoro's Class Reunion Murder Case", the 2-part season 1 finale of Case Closed (airdates August 5 and 12, 1996). She was an employee at a cosmetics company and an old college friend of detective Kogoro Mouri. Yumi first re-encountered Kogoro after he caught a robber, and invited him to attend their upcoming class reunion (which Kogoro was reluctant to attend).
At the reunion, however, Yumi surprised everyone by revealing how she was struggling both financially and romantically, even expressing a desire to die (which she laughed off as a joke). But later on, after a nearby fireworks show, Yumi was found shot dead in what initially appeared to be a suicide.
But Conan Edogawa quickly deduced that Yumi's death was actually a murder--and soon discovered that Yumi's killer was Kazushi Nakamichi, a detective and another old friend of Kogoro's. Yumi's posthumous villainous reveal came through Kazushi's motivation for killing Yumi. He revealed that he and Yumi had been romantically involved, but their relationship ultimately ended after Yumi refused to marry Kazushi after several attempted proposals. Later on, though, when Kazushi became engaged to his boss's daughter, the evil and jealous Yumi began calling his fiancee and leaving them threatening letters, as well as blackmailing Kazushi by threatening to send his fiancee intimate photos of them together. To end Yumi's blackmail, Kazushi claimed he would pay her off at the reunion, only to instead shoot and kill Yumi and stage the scene to look like she killed herself.
In the English dub, Yumi's name is translated to Jamie Hummelford and is voiced by Pam Dougherty.
Community content is available under
CC-BY-SA
unless otherwise noted.