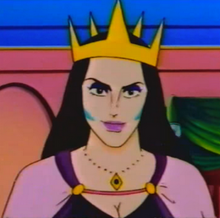 The unnamed witch (voiced by Toshiko Fujita) is an evil queen who is the villainess of the "The Six Swans" episode of the anime series Grimm Masterpiece Theater (Grimm's Fairy Tale Classics). As the title suggests, it based on the The Six Swans fairy tale by the Brothers Grimm.
The story differs in some parts from the original version, especially in the second part. Other version of the character in television adaptation include the
Witch (The Storyteller)
.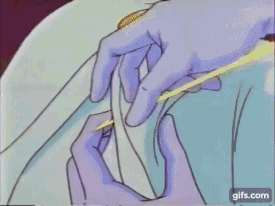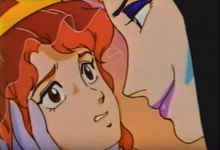 In the anime, the evil stepmother-queen kills her newly married husband and puts a spell on his children to gain total control of the kingdom like in the original, but later she takes up the role of the Princess' evil mother-in-law and leaves Elise's baby son (her only child) in the forest so she could make him into stew. The swan-brothers find their nephew in the forest,rescue him and keep him alive, plus they're stuck in their swan forms all day/night long (though they still can speak) until their sister breaks the curse and they give her the baby back.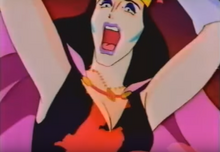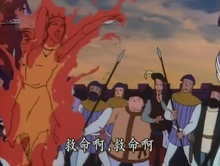 At the end, when the wicked stepmother is exposed as the witch who killed her husband, as well as as the one who framed Elise to have her burned after falsely accusing Elise of being a witch, the prince orders the guards to have her destroyed. She uses her magic in an attempt to escape, but then her dress accidentally catches fire from Elise's pyre ignites by her wind spell. The witch meets her end as she runs around screaming in flames. This is more graphic in the Japanese version, and shows how she burns completely into nothingness.
Community content is available under
CC-BY-SA
unless otherwise noted.