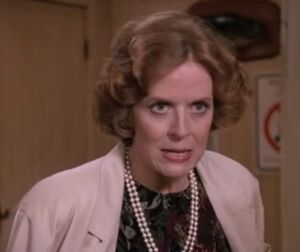 Winifred Thayer (Holland Taylor) is the main villainess from "Town Father," episode 6.11 of Murder, She Wrote (airdate December 17, 1989). She is the wife of wealthy Horton Thayer, who had countless affairs--one of them with Annie Mae Chapman (aka Anne Mitchell), who arrived in Cabot Cove posing as the fiancee/mistress of Mayor Sam Booth.
Winifred had known about all of Horton's affairs, including the one with Annie (which happened 10 years prior to the events). After Annie showed up again, Winifred followed her to a motel when Horton was paying her off--$2000 as later revealed. Shortly after Horton left, Winifred entered the motel room and shot Annie to death.
Winifred was shown confronting Jessica Fletcher and Sheriff Mort Metzger regarding Horton's interrogation, during which she referred to Annie under her real name, Anne Mitchell, which gave Winifred away as the killer. Following her reveal, Winifred ranted about Horton's affairs being the reason why she left Boston and moved to Cabot Cove, right before she confessed to killing Annie and stated she wanted all of the women Horton cheated with. Winifred was arrested (off-screen) for Annie's murder.
Holland Taylor also played alternate reality villainess Evelyn Harper on Two and a Half Men.
Community content is available under
CC-BY-SA
unless otherwise noted.