Wiki Targeted (Entertainment)
Play Sound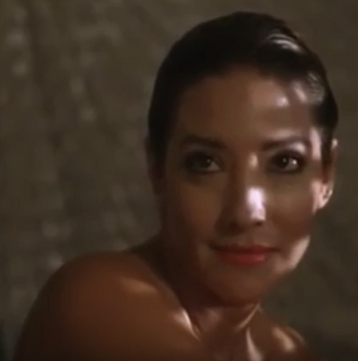 Warden Sybil Thorn (Mindi Miller) is a villainess in the 1990 remake exploitation film "Caged Fury".  At the time, Mindi was going by the stage name Ty Randolph.
Warden Sybil Thorn is the lesbian warden of Honeywell State Prison.  The prison houses lingerie clad prisoners who have been detained on trumped up charges and forced to serve out their sentences performing "duties" and unusual favors for a chance at early parole.
The story follows two girls Kat Collins (Roxanna Michaels) and Rhonda Wallace (April Dawn Dollarhide), who attempt to get a screen test for a film in Hollywood.  When they realize that Mr. G, the director is operating a porno flick, the two attempt to leave.  This leads to an altercation and a trip in a squad car.  They are arrested on solicitation charges. Then it's a swing through the local kangaroo court, and the girls find themselves in the Honeywell State Prison for Women.
Honeywell may be a prison, but not one sanctioned by the State of California. The pipeline from Buck's studio to Mr. G's casting couch to kangaroo court to Honeywell Prison is all part of a human trafficking organization that captures, subdues and sells young women into slavery.  It is revealed that the district attorney and warden Sybil are all actors in order to satisfy this industry.
At the end of the film, the prison gets raided.  In order to avoid investigation, Sybil orders her guards kill all the inmates to get rid of the evidence.
Trivia
Mindi Miller appeared as warrior Dyala in the 1986 Roger Corman film "Amazons", in which she fought and killed Tashinge (Danitza Kingsley), the evil general of the Amazons.
Gallery
EvilBabes Unfiltered
Full gallery: Warden Sybil Thorn (Caged Fury)