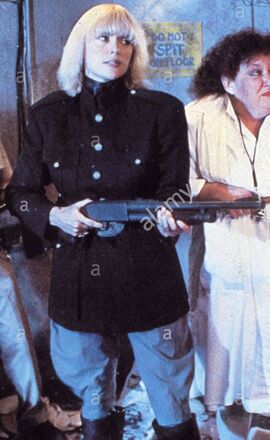 Warden Sutter (Sybil Danning) is the main antagonist in the 1986 film "Reform School Girls".
Warden Sutter is the evil sadistic warden of the Pridemore Juvenile Facility For Girls.  When each new group of girls arrive, they are forced to strip in front of the prison nurse and take a shower while being informed that they will be "inspected inside and out".  Afterwards, they are forced to stand naked along a wall while the nurse sprays them with DDT delousing fluid.
Warden Sutter has as an assistant named Edna (Pat Ast) who is responsible for making sure there is plenty of fear among the inmates.  Edna has given power to Charlie Chambliss (Wendy O. Williams) to act as an inmate bully.  Therfore, Sutter and Edna allow Charlie to wreck havoc.  
At night, Warden Sutter broadcasts religious oriented messages from the tower as the girls are going to sleep.
When Charlie and inmate Jenny (Linda Carrol) get in a major catfight in the barracks, Warden Sutter decides she has had enough.  She shoots a shotgun into the ceiling, and then when Charlie complains, Sutter turns on her.  Sutter is arrested and put into solitary confinement.  This turns the tables on the inmates, and they begin rioting.
In the end, Edna uses the tower to begin shooting the rioting girls. Charlie is killed while riding on top of a speeding bus.  When she jumps off, the bus takes out the tower, which in turn causes Edna to tumble to the ground dead.
Sybil Danning appeared as Brenda in the 1980 Italian detective thriller "Day of the Cobra".
Sybil Danning earlier appeard as the evil sorceress Ariadne , in the 1983 Italian adventure film, "Hercules".
Sybil Danning appeared as Angel in the 1984 action film "Jungle Warriors".
Sybil Danning appeared as Mary Kruger in the 1984 episode "Visitor's Choice" for the TV series "V".
Sybil Danning later appeared as Stirba , the main villainess from the 1985 film, "Howling II: Your Sister is a Werewolf".
Sybil Danning apperead as The Alien Queen in the 1988 film, "The Phantom Empire".
Sybil Danning later appeared as evil succubus Pamela Dare in the 1989 episode of "

Superboy", entitled "Succubus".
Community content is available under
CC-BY-SA
unless otherwise noted.