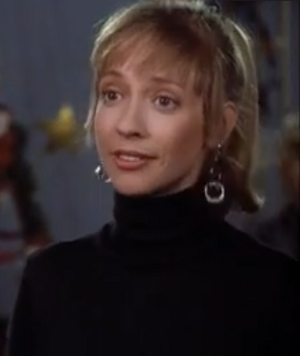 Wanda Andrews (Corinne Bohrer) is a villainess from "A Christmas Secret," episode 9.09 of Murder, She Wrote (airdate December 13, 1992). She is an employee at Floyd Bigelow's hardware store.
While Floyd was away in Tokyo, Wanda found out that Floyd was embezzling money from charity funds and opening personal accounts in Portland. Instead of reporting the embezzlement, Wanda turned heel by deciding to blackmail Floyd, with her scheme involving recording a cassette meant for her target. The greedy villainess demanded Floyd to meet her in a private location and pay her in exchange for her silence on the embezzlement.
However, there was one problem:  Wanda placed the tape in Charlie McCumber's car by mistake; a mistake due to her color blindness causing her to be unable to distinguish red (Floyd's car) from green (Charlie's car). When Floyd didn't show up to the arranged meeting, the evil Wanda called Floyd directly and made the same threat she made in her cassette. The call was overheard by Floyd's lover, Amy Wainwright, who underwent her own heel turn and shot Wanda to save Floyd. Wanda ended up surviving Amy's attempt, though her complete fate wasn't revealed.
Corrine Bohrer is best known for playing villainess Zoey Clark on The Flash (both the original version and the Arrowverse version), and also appeared on Diagnosis Murder as the evil Bobbie Burton.
Community content is available under
CC-BY-SA
unless otherwise noted.