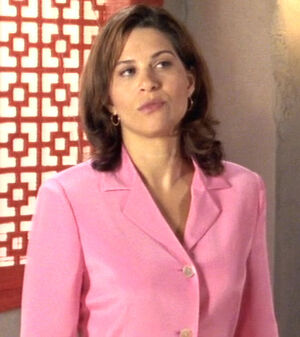 Victoria Stevens
is the villainess from "Meltdown In Maltaka", a Season 2 episode of the tv series "
Sheena
". She was portrayed by Leesa Castaneda.
Victoria was a boxing promoter who came to the town of Maltaka in Africa for her fighter, Kelly Lewis, to have an exhibition match w/Melina, a local, young boxing prospect. However, back in the states, she has guaranteed crime boss A.J. Faheed a win for Kelly, to go w/the $5 million in bets he has on the fight. Victoria's plan is to have Melina, who looks very impressive, sabotaged & maimed enough to force her to withdraw from the fight.
Melina is attacked & booby trapped repeatedly by Victoria's henchman, but Sheena and Matt are able to keep her safe. In one instance, her man were stationed outside the arena to prevent Melina from making it to the fight weigh-in; an automatic forfeit. However, Melina made it right at the moment Victoria attempted to declare the forfeit.
In a last-ditch effort, Victoria gives the green light for Melina's trainer to be at stake; if Melina doesn't take a dive, Mendelsohn dies. They make the plan for Sheena to retrieve Mendelsohn while Melina stretches out the fight. Victoria is seen visibly enjoying Melina's misery as the fight takes a toll. However, before the last round begins, Melina is informed that Sheena got Mendelsohn, so she goes on to win the fight by knockout, to the shock of Victoria. Post-fight, Sheena looks & sees that Victoria & her henchman Bill have fled.
The two are in a Land Rover trying to figure out what to do when Sheena appears on the roof. She pulls Bill out & begins to beat him down, while Victoria jumps in the driver's seat to escape. While tussling, Bill's gun lets off an inadvertent shot that pierces the gas line of the Rover. As Victoria is escaping in reverse, a trail of gas is left. Another shot bounces off the oiled grass, igniting it; thus, as Victoria is going, a trail of fire pursues, unbeknownst to her. In one split second, she turns to see the fire & as she begins to let out a scream, the car explodes, clearly they end of Victoria.
Community content is available under
CC-BY-SA
unless otherwise noted.