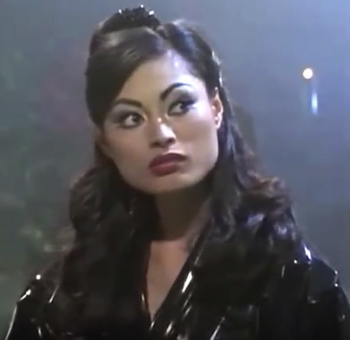 Vashista (Kira Clavell) is a Henchwoman and Demon in the 2000-2001 TV Series
The Immortal
.  She appeared in three episodes, "Demons of the Night: Part 1", "Demons of the Night: Part 2", and "Kiyomi".
Vashista is a sadistic demon who is aligned as a henchwoman for the main villain Mallos (Dominic Keating).  The duo were responsible for slaying the wife of Raphael Cain (Lorenzo Lamas) in the 16th century Asia.  As a result, Cain vowed to pursue the demons through the centuries to kill them and find his daughter who they kidnapped. Cain became an immortal and was taught magic and samurai swordsmanship.  Now in the 21st century, Cain has been reintroduced to Mallos and Vashista, who are gathering power and making life very uncomfortable.
Vashista is involved in a rivalry with Dr. Sara Beckman (April Telek), whom she gets in several catfight like encounters.  Vashista is able to use supernatural powers.
Vashista is seen torturning Cain while he is in bondage.  In the end, Sara is able to knock Vashista out as Cain is able to kill Mallos by way of a sword.  It is assumed that when Mallos died, that Vashista was sent back to hell.
Kira Clavell appeared as Vam Mi in the 5 episodes of the 1989 TV series "Saban's Ninja Turtles: The Next Mutation".
Kira Clavell appeared as the remorseful Medusa in the 2001 fantasy TV movie Voyage of the Unicorn.
Community content is available under
CC-BY-SA
unless otherwise noted.