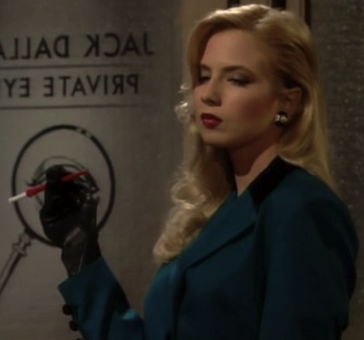 Vanessa Van Pelt (Traci Lords) is an antagonist in the 1991 episode "Al Bundy, Shoe Dick" for the TV comedy series "Married...With Children".
Vanessa Van Pelt shows up at the office of Jack Dallas, Private Eye.  She is a young buxom, leggy femme fatale who fears that her family members may interfere with her expected bequest of a priceless gem from her uncle, Col. Van Pelt (John Randolph).  However, she mistakes Al Bundy (Ed O'Neill) as the private eye.  In reality, Al has applied for a job to clean the office.
Vanessa is said to be afraid that her uncle will put the priceless family heirloom in a museum.  Before she can obtain the gem, Col. Van Pelt is murdered and the gem disappears.  Al is left holding the knife.
At the end of the episode, Vanessa is found to be the murderer and is in posession of the priceless ring by Al.  She is taken away by the Chicago Police.  As she is being taken away, she speculates that she "could do 20 years" for her crime.  Vanessa, who really fell hard for Al, then asks him, "Will you wait for me?", to which he answers "What for?  You'll be old!"
Community content is available under
CC-BY-SA
unless otherwise noted.