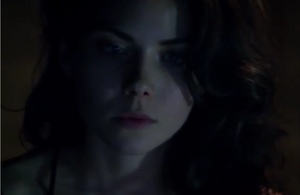 Vanessa Gillerman
(Grace Phipps) is a hidden villainess from "Selfie 2.0," episode 1.08 of
CSI: Cyber
(airdate April 22, 2015).
Backstory
Edit
Vanessa Gillerman's backstory revealed that she and her sister, Juliet, were both molested by their father when they were children. Sometime in 2004, Vanessa became the first of seven young women abducted by Jasper Cross, and was originally held captive in his home. However, after over a year in "captivity," Vanessa was given special privileges due to her bond with Jasper, which included being allowed to go out in the world.
As time passed, Vanessa went from victim to villainess, abducting some of the other girls for Jasper, who she referred to as her "master." In addition to becoming Jasper's lead henchwoman, Vanessa was referred to as "madam" by the other captive girls, with one instance being when Vanessa was out at a store with one of the captives, Elizabeth Marks, who she threatened with a knife. The villainess sent Elizabeth to get rye bread for Jasper, which gave Elizabeth the chance to go for help, as she approached a woman and asked to borrow her phone. Unfortunately, Vanessa caught Elizabeth and later killed her.
The episode's events introduced Vanessa as one of the victims, but Vanessa was revealed as a villainess later on, as she was shown branding and tattooing the latest victim Missy Bowers, under Jasper's orders. Avery Ryan later reached out to Juliet Gillerman and had her send her sister a message online to reach out to her, only for Vanessa to smash the laptop upon reading it. Shortly afterwards, the evil Vanessa appeared in a mask and hoodie, and was on her way to commit another abduction to replace Elizabeth, only for Avery to appear with Elijah Mundo and arrested Vanessa.
The villainess gave a loud snarl during her arrest, and she was later shacked to a table and interrogated by Mundo. Vanessa berated Mundo for "disrespecting her master" before demanding Avery's appearance. Avery's attempt to get through to Vanessa by showing her photos of her father and sister failed, as she spat at her father's photo and referred to Juliet as a whore. She later gave an evil laugh while refusing to help Avery free the other girls, and continued her defense of Jasper by stating that she was his everything and that he wouldn't replace her. However, Avery saw Vanessa's maniacal words as a way to bring down Jasper, which was done when Mundo shoots and kills him during a shootout before he and Avery rescued the girls. Following the rescue, Missy revealed Vanessa's role in Elizabeth's murder.
Grace Phipps also played villainous angel Hael on Supernatural.
Community content is available under
CC-BY-SA
unless otherwise noted.