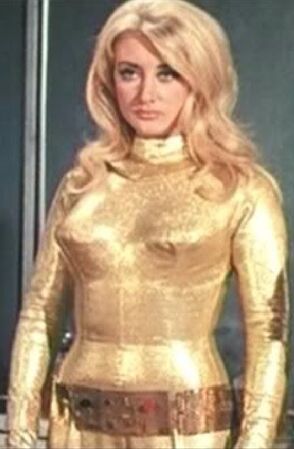 Vama (Linda Gaye Scott) is the gorgeous gold henchwoman in the 1967 two part episode "Invasion From Outer Space" for the TV series "The Green Hornet".
Vama is the hired muscle for Dr. Eric Mabouse (Larry D. Mann) who is a disgruntled scientist.  He is attempting to steal a military warhead, and is using the guise of being space aliens in order to do it.  They first show up at the house of Britt Reid/The Green Hornet (Van Williams) as he is getting ready to take out his secretary Lenore "Casey" Case (Wende Wagner).  Vama zaps Britt and then she and Dr. Mabouse kidnap Casey.  Vama then zaps the Green Hornet's sidekick, Kato (Bruce Lee).
Vama wears a gold lurex outfit much like the purple one she used in the Batman episode she was in.  For most of the first part, this outfit included a gold hood that form fitted her head.
Vama has only three lines, and one of them is when she says "Earth".  The rest of the time she plays the equivelant of a mute enforcer.  She has the power of an electronic gun, in which the electricity shoots out of her outstretched arms.  It is later learned that this power comes from the gold belt she wears around her waist.
Vama cooks two Air Force officers who get out of their vehicles to offer resistence to Vama.  She then zaps two police officers.
We finally see Vama appear without her gold hood, and get a better look at her blonde flowing hair.  
Vama is finally defeated, when she attempts to kill the Green Hornet.  Just before she begins to fire her electric pulses at him, he lifts a shield with a mirror on it up, and the lightning rays bounce off the mirror and hit her.  This knocks her out in short order.
Linda Gaye Scott appeared as the henchwoman Moth, who worked fro the Riddler in three of the 1966 episodes "The Ring of Wax", "Give 'Em the Axe", and "The Story" for the TV series "Batman".
Community content is available under
CC-BY-SA
unless otherwise noted.