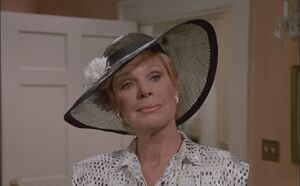 Valerie (no last name given) or Mrs. Parker (Betsy Palmer; 1926-2015) is the hidden main villainess in the Murder, She Wrote episode "Something Borrowed, Something Blue" (S05E09). She is the wife of Ziggy, the uncle of Donna Mayberry, Grady Fletcher's bride.
Prior to the episode, Mrs. Parker murdered her husband to claim her inheritance. Valerie was just a fake alias she used to marry Uncle Ziggy for his money.
However, when the evil Mrs. Parker killed her husband, she did not count on her maid Harriet Lundgren to cross her path. Ever since Mr. Parker died, Harriet was employed by the Mayberry family as their maid. Harriet could expose Mrs. Parker. After Mrs. Parker became Valerie, and when she and Uncle Ziggy visited the Mayberry family for the wedding, she recognized Harriet as her maid. Valerie decided to kill Harriet by stabbing her with a meat thermometer and dumped her body in the garden.
Jessica Fletcher eventually discovered Valerie as Mrs. Parker during the investigation, and the villainess' reveal came when Jessica found a stolen wedding gift in her room, which Valerie intended to use as a false motive for Harriet's murder. Valerie denied it and called her attourney. Mrs. Parker/Valerie was arrested for Harriet's murder.
Betsy Palmer was perhaps quite famous for her villainous role in the first ever Friday the 13th as the delusional serial killer Pamela Voorhees, the mother of Jason Voorhees.
Community content is available under
CC-BY-SA
unless otherwise noted.