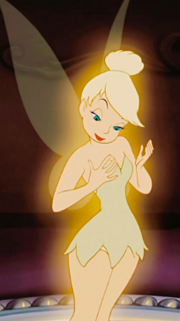 Tinker Bell is currently known as a friendly fairy, but it wasn't always that way. In her first appearance, Peter Pan, she is not so nice. In her first appearance, Tinker Bell is very sassy, feisty, stubborn, and hot-tempered. Upon meeting Wendy and other human females, Tink immediately shows disgust and irritation, mostly out of jealousy. This drives Tink to perform acts both selfish, and even murderous, much to Peter's annoyance. However, despite her rough interior, at her core, Tinker Bell is devoted and loyal to those she loves, and will eventually come to terms with those she initially resents, should they prove themselves worthy of friendly treatment. This can be seen, most notably, with her relation to Wendy Darling in the original film.  One night in London, Tinker Bell and Peter Pan visit the home of the Darling family as he accidentally left his shadow there during one of his previous visits. Using her light, Tinker Bell scopes through the house and looks at her reflection in the mirror. While searching, Tinker Bell finds and lands on a hand mirror and looks at herself, they eventually find the shadow, but accidentally trap Tink inside, and wake Wendy Darling, the oldest Darling child, in the process. Wendy helps put Peter's Shadow back on by sewing it. Tinker Bell, however, tries to get out of the drawer by climbing through a keyhole and gets stuck in the process due to her wide hips. She later gets unstuck when Wendy gets the sewing kit to help Peter free her.
Wendy is heavily infatuated with the stories of Peter Pan and the Lost Boys and appears to have a crush on the boy as well. This angers Tinker Bell, making her red with jealousy and even calling Wendy a "big ugly girl". Soon enough, Wendy explains that she may never see Peter again as her father is forcing her to "grow up" and leave the Pan stories in the past.
Because Peter enjoys Wendy's stories of his adventures, he offers her a chance to stay in Neverland, where she will never have to grow up. Tinker Bell is disgusted by the very idea and refuses to bestow her fairy dust upon Wendy and her younger brothers, John and Michael. However, Peter simply spanks the fairy dust out of Tink and unto the Darlings, giving them the ability to fly to Neverland. Once they've arrived, the group is attacked by Pan's nemesis, Captain Hook. Peter orders Tink to take the Darlings to the island for safety, but Tink leaves them in her dust. She heads to Hangman's Tree where she, Peter, and the Lost Boys reside. She tells the boys that Pan has ordered them to shoot down the "Wendy Bird."
The boys do as they thought they were told and Peter ends up saving Wendy's life which makes Tink so red with rage that she burns through a leaf as she flies away. When Peter finds out what they have done, he is furious. Lost Boy Cubby reveals that it was Tink that gave them the order and Peter banishes the fairy for a week as punishment. Later that night, Captain Hook's first mate, Mr. Smee, kidnaps Tink and takes her to Hook's ship where the captain attempts to toy with Tink's emotions to get her to reveal Peter's hideout. He tells her the pirates are planning on shanghaiing Wendy, and the plot makes Tink more than happy as, with Wendy out of the way, she and Peter can be together again. She points the way to the hideout on the map, but before she completes this, she forces Hook to promise not to lay one single finger or a hook on Peter Pan. Hook agrees, trapping her in a lantern once she reveals the location.
The next morning, Wendy, her brothers, and the Lost Boys are captured and given the choice of becoming pirates or walking the plank. Wendy convinces the boys to refuse the offer, in high hopes that Pan will save them. Meanwhile, Hook reveals his plot to plant a bomb in Peter's hideout, disguised as a gift from Wendy. When Tink hears this, she breaks free of her trap and heads for Hangman's Tree. There, she tries to warn Peter, but he brushes her claims off as nonsense. The bomb begins to ring rapidly, ready to explode, but Tink takes it away from Peter and sacrifices herself.
In the rubble of Hangman's Tree, Peter is safe, but Tink is fatally injured. Peter restores her life by telling her just how much she means to him. With Tink saved, Peter heads to the Jolly Roger to rescue his friends. A battle occurs, ending with Hook fleeing for his life from the crocodile who ate his left hand and now wants the rest of the captain. With Hook defeated, Peter decides to escort Wendy home, having Tink sprinkle fairy dust all over Hook's ship so it turns gold and flies.
Trivia
Tinker Bell was originally a Disney princess, but was removed so Tiana could take her place and possibly because she was a fairy, was introduced as a villain and never said anything.
She gets a few underwear shots if you look closely.
Community content is available under
CC-BY-SA
unless otherwise noted.