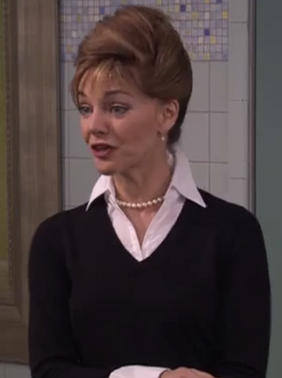 Eileen
(Robin Riker) is an antagonist in the WB sitcom "What I Like About You." She appears in the Season 2 episode "Spa Day" (2002).
Eileen is the manager of a day spa. When Val and Holly arrive for a spa day, she acts snobbish and condescending toward them. After Holly sneaks out to have her photo taken with JC Chasez of NSYNC, Eileen stops her from returning to the spa, inventing a "no re-entry" policy on the spot and making an employee drag her out. Holly manages to re-enter through a window and land in a mud bath, only to be discovered by Eileen, who calls her a "brat" in front of Val. Eileen then orders Val and Holly to leave.
After the two sisters have left, Eileen begins cleaning the mud bath. Val sneaks up behind her and gets revenge by shoving her on the butt, sending her face-first into the mud with a loud splash. The last we see of Eileen is her standing up in the bath, unrecognizable (and presumably humiliated) under a head-to-toe coating of mud. Val gives her a smirk and leaves.
Trivia
Gallery
Community content is available under
CC-BY-SA
unless otherwise noted.