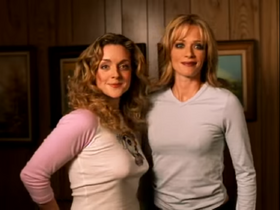 Wanda 
(Jane Krakowski) and 
Mary Ann 
(Lauren Holly) are the villainesses from The Dixie Chicks' music video, 
Goodbye Earl
 (released in 2000). The video's beginning established Wanda and Mary Ann as having been best friends throughout high school, with the women parting ways when Mary Ann left town after graduation to see the world.
Subsequently, Wanda met and married a man named Earl, with their marriage quickly dissolving as Earl began physically abusing Wanda. Eventually, Wanda found the courage to divorce Earl and file a restraining order, only for her violent ex-husband to ignore the order and attack Wanda, putting her in the hospital. Upon hearing of her friend's predicament, Mary Ann returned to town and the women conspired to kill Earl in revenge for his abusive ways.
The women went about killing Earl by poisoning his dinner, with Mary Ann watching from a closet as Earl ate his food (black eyed peas) and succumbed to the poison. After burying Earl's corpse out in the forest, Wanda and Mary Ann reported Earl as missing, with the police (as well as the rest of the town) making only a feeble effort to locate him. After getting away with the murder, Wanda and Mary Ann opened a roadside food stand together, with implications saying the women also began prostituting themselves. The video ended with Wanda and Mary Ann (along with the Dixie Chicks, townspeople, and even the decomposed Earl) dancing together.
Trivia
Jane Krakowski also appeared on Law & Order: SVU as psychotic serial killer Emma Spevak.
Lauren Holly's other villainous roles include psychotic therapist Dr. Rachel Thorne from 2012's Do No Harm, business villainess Elise from 2015's After The Ball, and evil stepmother Beth Bennett from 2016's The Stepchild.
Videos
Community content is available under
CC-BY-SA
unless otherwise noted.