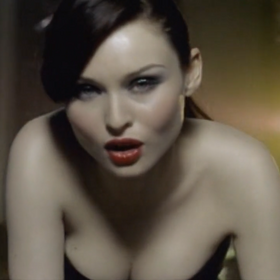 Sophie Ellis-Bextor
 is an English singer and serves as the main villainess of her music video, 
Murder on the Danceflooor
 (released in December 2001). She and her presumed lover were competing in a dance contest, with Sophie using underhanded methods to win.
Sophie's first act of saboteur was against a dancing couple, discreetly tripping them and causing the woman to fall, getting the pair disqualified despite their attempts to report Sophie. The evil Sophie also sabotaged another couple by ripping a woman's dress off and gave a group of Mexican men competing spiked punch, causing them to become sick. Lastly, Sophie placed butter on the floor to slip up a female competitor (causing her to be injured, much to the villainess' glee) and stuffed a pair of panties into a male competitor's shirt pocket, causing his partner to believe him to be unfaithful, slapped in the face and storm off.
Having already dispatched of the competition's sole female judge by knocking her out with chloroform, Sophie approached one of the judges to seduce him, enticing him by giving him a view of her cleavage. Sophie's manipulation succeeded, as she and her partner were crowned the winners of the contest. As their defeated competitors begrudgingly applauded them, Sophie eagerly took the trophy and cash award she received for her ill-gotten win, gleefully grinning and waving the latter in the air as the other competitors walked away.
Videos
Community content is available under
CC-BY-SA
unless otherwise noted.