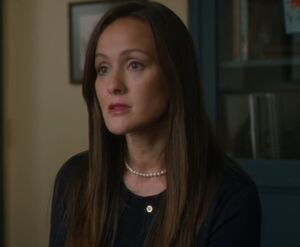 Sarah Albans (Crystal Lowe) is a villainess from the 2017 film, Wonder. She is the mother of Julian Albans, a middle school student who had been bullying the film's main protagonist August "Auggie" Pullman--a boy with Treacher Collins syndrome.
Sarah and her husband, along with Julian, were called to the office of school principal Mr. Tushman due to Julian taping a class photo with Auggie removed, and writing defamatory remarks about Auggie and his appearance on the photo. The incident came after Jack Will, another student, punched Julian in defense of Auggie; an incident Sarah callously referred to while denying Julian's bullying, while also claiming that Julian is the real victim. As for Auggie being photoshopped from the portrait, Sarah revealed that she removed Auggie to keep up appearances, stating that people who visit their home should talk about Julian and not Auggie.
Sarah continued her defense of her son's actions, claiming that Auggie shouldn't be "exposed" to Julian and the other students, while also stating that Julian had nightmares about Auggie. Both she and her husband threatened to pull their funding for the school, as well as pulling Julian altogether, despite Julian's protests and desire to continue attending. Julian received a two day suspension for his actions and apologized, while the villainous Sarah dragged him from the office after blasting Tushman for "coddling" Auggie and other kids.
Trivia
Crystal Lowe also appeared on The Haunting Hour as the evil Cassandra Hobbs, on Republic of Doyle as greedy villainess Michelle Cantwell, and in The Gourmet Detective: A Healthy Place to Die as the villainous Gretchen Miller.
Sarah Albans is similar to Smart Guy villainess Hillary Jordan, as both are mothers of bullies who condone and enable their sons' behavior, while also blaming the victims of the bullying for any and all altercations.
Videos
Community content is available under
CC-BY-SA
unless otherwise noted.