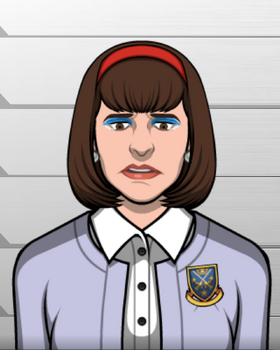 Sabrina Kingston 
is the villainess of "Good Girls Don't Die", case #48 of the crime solving game 
Criminal Case 
(release date November 21, 2013). She was a high school student and the best friend of Abigail Price, the daughter of budding politician Martha Price.
After Abigail was found murdered at a beauty parlor, Sabrina was informed of her death by the player and chief medical examiner Grace Delaney (David having been given desk duty for the complaints he received within Maple Heights), as Abigail's friendship locket revealed her connection to Sabrina. Upon learning about her friend's death, Sabrina was shocked and broke down in tears as to how she'd go on without her best friend.
But as the investigation revealed, Sabrina had been buying drugs from classmate Veronica Johnson, doing so to excel in school out of fear of being disowned by her family if she wasn't accepted into Harvard. When Sabrina realized that the colleges she was applying to mandated drug tests for their applicants, she begged Abigail to give her a sample, only for her friend to refuse.
In desperation, Sabrina decided to try and scare Abigail into giving her a sample, doing so at the beauty parlor. While Abigail was in a treatment room, Sabrina snuck in with a hair removal laser and pointed it at Abigail, frightening her. But during the confrontation, Sabrina accidentally fired the laser at Abigail, burning a hole in her chest that eventually killed her. When the evidence proved Sabrina's guilt and she was brought in to the station, she confessed to killing Abigail, expressing her frustration with her for not helping her after she'd kept it a secret that she had become pregnant and later had an abortion to protect her mother's political ambitions. But despite this, Sabrina showed tearful remorse for accidentally killing Abigail and begged her deceased friend to forgive her, with her feelings being intensified by the fact that the "drugs" she got from Veronica were fake. Sabrina was ultimately sentenced to twenty years in prison with a possibility of parole in ten.
Gallery
Community content is available under
CC-BY-SA
unless otherwise noted.