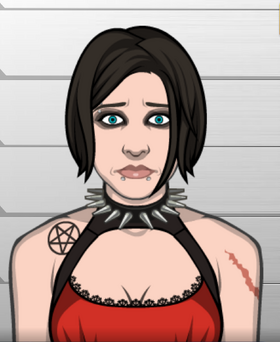 Ophelia Lincoln
 is the villainess of "The Summoning", case #26 of the crime solving game 
Criminal Case 
(release date May 2, 2013). She was a 16-year-old high school student and was friends with three of her fellow classmates: Steven Crowe, Elvira Milton, and Simon Armstrong, who were all involved in the Occult and Satanic rituals. The case began with Simon being found gruesomely stabbed to death in what appeared to be a Satanic ritual, as Satanic symbols were carved into his body.
Ophelia was first questioned by detective David Jones when Elvira anonymously called the police station from the Grimsborough Cemetary, wanting to give statements. During her statement, Ophelia stated that Simon had been nice and hadn't deserved to die in such a grisly way. Ophelia later became a suspect when a pendant containing Ophelia's blood was found in the crypt where Simon was killed.
Under interrogation, Ophelia revealed that she was on anti-psychotic medications that had partial memory loss as a side effect, and it was because of this that she used to do things without remembering them later. She also revealed that Elvira had not shown up to the cemetary as she usually did on the night of Simon's death, making it initially appear that Elvira had killed Simon.
But later on, the evidence proved that it was Ophelia who killed Simon, with two major clues revealing Ophelia's crime being a photo Simon had taken during the murder of Ophelia's scar and the saliva on Simon's medallion (which Ophelia left in the cemetary) proving the killer was female. Confronted with the evidence, Ophelia revealed that she had gone to the crypt to help Simon with a ritual, and it was during that time that Ophelia blacked out and had a nightmare in which a demon was trying to kill her, leading her to unknowingly kill Simon. She also revealed that Steven had told her she became obsessed with the rituals during her blackouts and proclaimed that she had never wanted to kill Simon. During her trial, judge Olivia Hall concluded that Ophelia's mental illness left her in no control of her actions and sentenced her to a three year stay in Grimsborough Psychiatric Hospital pending reevaluation.
Gallery
Community content is available under
CC-BY-SA
unless otherwise noted.