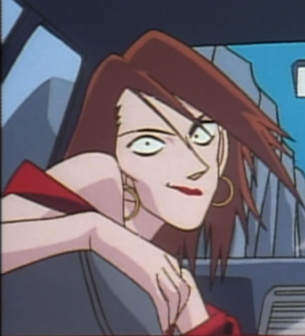 Naomi (Ikue Otani) is a villainess from "Cactus's Flower Murder Case", episode 2.09 of Case Closed (airdate November 11, 1996). She was the fiancee of Tsuyoshi Kitagawa and, months prior to the events of the episode, the couple was involved in an auto accident with fellow newlyweds-to-be, Tatsuo Yamaguchi and Noriko Okaya.
While driving down the same mountain road, Tsuyoshi began tailgating Tatsuo and Noriko, with the mean-spirited couple mocking and laughing at them as they continued their harassment. The callous prank resulted in Tatsuo losing control and crashing the car, later dying when the car exploded while the injured Noriko was pulled to safety.
After recovering in three months, Noriko was able to track down Naomi and Tsuyoshi with the help of detective Kogoro Mouri, having been plotting to take revenge for their roles in her fiancee's death. When Noriko confronted Naomi and Tsuyoshi as they worked on an art piece, the latter viciously denied responsibility for the accident, resulting in Noriko spraying him with mace. After comforting her fiancee and screaming at Noriko to leave them alone, Naomi grabbed a chisel and attempted to attack Noriko, only to be maced as well. Noriko then prepared to set the villainous couple ablaze, only to be assuaged by Conan Edogawa and Saeki, her friend and doctor. It was then left unknown if Naomi and Tsuyoshi were ever charged with causing the fatal accident.
Trivia
In the English dub, Naomi is voiced by Rebecca Paige.
Rebecca Paige (Naomi's English dub actress) also voiced Case Closed villainess Kimie Hayase.
Gallery
Community content is available under
CC-BY-SA
unless otherwise noted.