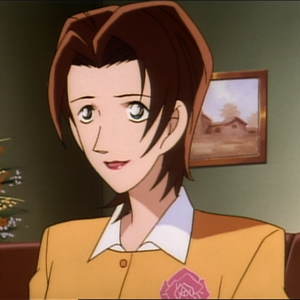 Midori Ozaki 
(Saeko Shimazu) is the main villainess of "The Flower Scent Murder Case", episode 4.08 of 
Case Closed
(airdate February 9, 1998). She was the manager of
Rika Okano
, a popular Avant-garde Ikebana artist. She first encountered detective Kogoro Mouri (along with his daughter Ran and Conan Edogawa) regarding a death threat that had been sent to Rika while she was at the Bay Front Hotel for a performance.
Midori's backstory revealed that her older sister Haruka was also an Ikebana artist, who taught her techniques to Rika. Rika, however, stole her mentor's secrets and used them for her own career, working with her funder Daisuke Shiraki to destroy Haruka's career and passing herself off as the creator of her Ikebana technique.
The destruction of her career left Haruka heartbroken, leading her to take her own life, with Midori discovering her body. Devastated and wanting revenge on Rika and Daisuke, Midori got her position as Rika's manager and plotted to kill them both during her performance at the Bay Front Hotel. After sending a death threat to Rika and hiring detective Kogoro Mouri to investigate, Midori went about killing Daisuke. Having previously given him a lapel flower laced with frozen chloroform, Midori waited until Daisuke was rendered unconscious before strangling him to death with his necktie.
After discovering a kit of Midori's containing chloroform and potassium cyanide, Conan realized that Midori had laced the flowers for Rika's performance with cyanide to kill Rika and herself. After using liquid nitrogen to freeze the flowers before they could bloom and spread the poison, Conan (while impersonating Kogoro) revealed Midori as Daisuke's killer and Rika's attempted killer. Midori admitted to her crimes, revealing her sister's suicide as a result of Rika and Daisuke's callous actions and publicly exposing Rika as a fraud. She additionally proclaimed that she could never forgive Rika for what she'd done after getting to know her through her assistant job before breaking down in tears. Rika was later handcuffed and arrested for Daisuke's murder and Rika's attempted murder.
Trivia
In the English dub, Midori's name is translated to Madison O'Connor and she is voiced by Ashley Gonzales.
Ashley Gonzales (Midori's English dub actress) also voiced Case Closed villainesses Izumi Chono.
Community content is available under
CC-BY-SA
unless otherwise noted.