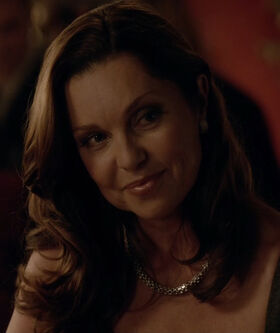 Jackie (Sarah-Jane Redmond) was a minor recurring villainess from the 1st season of iZombie. She was a wealthy woman who encountered zombie Blaine DeBeers in a bar in the season's 2nd episode, "Brother, Can You Spare a Brain?". After some talk, Jackie and Blaine spent the night together, resulting in Blaine transforming Jackie into a zombie. Though at first shocked, Jackie became a part of Blaine's "Brain Club", paying him in exchange for keeping her supplied with brains. After that, Jackie became Blaine's lover, engaging with trysts with him on a regular basis. 
In the episode, "Live and Let Clive", Jackie was approached by Blaine's deliverymen, who were planning to start their own business to get out from under Blaine's thumb. Jackie expressed an interest in their business, saying she wanted to join them as a way to get back at Blaine for overcharging her. But instead, the evil Jackie ratted them out to Blaine, resulting in Blaine shooting them dead.
In her final episode, "Virtual Reality Bites", Jackie was shown getting another "food" delivery and is irate when she sees that the Gulai-Otak she ordered was missing. The delivery boy assured Jackie he could retrieve it in 20 minutes, but Jackie responded saying she wouldn't be able to wait that long. At that, Jackie killed the young man by impaling him on a coat hook, later devouring his brain. She then called Blaine and claimed her delivery never arrived, creating more lies to further fool Blaine. Blaine told her that he would come over with a special delivery, and it at first appeared Jackie's lies had worked. But it is soon revealed that Blaine knew what she had done, as he went on to kill his villainous lover with a drill to the face.
Trivia
Sarah-Jane Redmond also played villainess Lydia Newman in Possessing Piper Rose.
Gallery
Community content is available under
CC-BY-SA
unless otherwise noted.