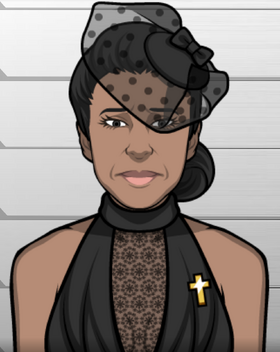 Gloria Fernandez is the villainess of "The Haunting of Elm Manor", case #28 of the crime solving game Criminal Case (release date May 24, 2013). She was the wife of Hector Fernandez and the mother of their son, Aurelio, who died years prior to the events of the case, supposedly killed by the couple's haunted home. Gloria was also revealed to have had a brief affair with botanist Charles Parker following her son's death.
Some time prior to the case's beginning, Hector confessed to Gloria in a drunken stupor the truth about Aurelio's death: he had fallen to his death down the stairs of the house while Hector wasn't watching him as he was supposed to. Later on, when she saw that Hector had no memory of his confession, the vengeful Gloria began dosing her husband with a hallucinogenic drug, making him begin to believe their house really was haunted, before ultimately killing Hector by crushing him under a chandelier.
When detective David Jones and the player began investigating Hector's death, Gloria expressed tearful heartbreak over her husband's death, feigning belief that their house's curse had killed her husband and child. But the evidence ultimately proved Gloria as the killer, and David and the player returned to Elm Manor to arrest her. Gloria boldly confessed to killing Hector, revealing his role in their son's death and proclaiming that she'd done what any mother would do. During her trial, Gloria proclaimed that she delivered justice by killing her husband and that no punishment she received could be worse than losing her son. Gloria was ultimately sentenced to life imprisonment.
Trivia
Gloria Fernandez is similiar to Fiona Cummings, a villainess from Criminal Case: Save the World; both are women who kill their husbands for indirectly causing the deaths of their children (sons in both cases) and lying to cover up their involvement; in a striking similarity, both women proclaim during their trial that their punishment would pale in comparison to the loss of their child.
Gallery
Community content is available under
CC-BY-SA
unless otherwise noted.