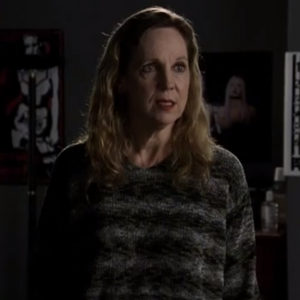 Eleanor Webster
 (Annie Chadwick) is a villainess from "Hate", episode 5.13 of 
Law & Order: SVU
 (airdate January 13, 2004). She was the wife of Seth Webster and the mother of their only son, Sean (the episode's main antagonist). The episode's events have Sean being found to be the culprit behind the rape-murders of Mira Elbisi and Tariq Assad.
Eleanor's first appearance of the episode had her confronting SVU detectives Finn Tutuola and John Munch as they searched her son's room, proclaiming that Sean wasn't a criminal and attempting to order the detectives out, with Finn reminding her they had a warrant. After cleaning fluid was found containing the same chemicals used to set Mira and Tariq on fire, Eleanor appeared dismayed by the proof of her son's actions and was shown in attendance at Sean's trials.
The episode's progression revealed Sean targetted Mira and Tariq due to them being Arabic, and after Sean attacked and killed a Muslim inmate while in police custody, his lawyer Oliver Gates went to court with the argument that Sean was born with a disposition to racially motivated violence due to his father being killed while serving in Desert Storm. However, the episode's conclusion revealed the truth about Seth: he was not only alive and well, but had also met and fall in love with an Arabic woman while in the military, marrying her after divorcing Eleanor. Enraged at her husband for leaving her, Eleanor turned heel by forbidding Seth from visiting Sean after the divorce. The evil Eleanor also developed an Islamaphobic attitude that she began indoctrinating her son with; doing so to further spite her ex-husband.
Eleanor's toxic influence led Sean to get into trouble throughout his teen years for fighting, and ultimately led to Mira and Tariq's murders. The truth was revealed after the SVU detectives found that Seth was alive and had him brought to see Sean, with Seth revealing his ex-wife as a racist and vindictive villainess. Eleanor's ultimate fate, however, is left unknown.
Community content is available under
CC-BY-SA
unless otherwise noted.