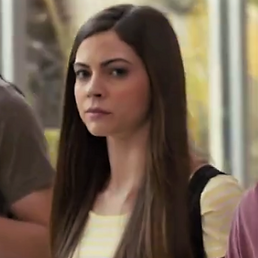 Becca Arrington (Caitlin Carver) is a minor villainess from the 2015 film Paper Towns, as well as the 2008 John Green novel of the same name. She was a popular student at her Orlando high school and was the best friend of fellow popular student Margo Roth Spiegelman. But unbeknownst to Margo, Becca was secretly sleeping with Margo's boyfriend, Jason "Jase" Worthington.
After Margo learned about Becca's betrayal, she enlisted the help of her neighbor and former friend Quentin "Q" Jacobson to get revenge against her villainous friend (among others). To do so, Margo went to Becca's house as she and Jase were having sex and called her sleeping father to inform him of their tryst, resulting in Jase having to run out of the house naked while Becca was berated by her father. Afterwards, Quentin passed by Becca, Jase, and Chuck (a guy who used to bully Quentin who Margo had allowed him to get revenge on by waxing off his eyebrows) at school, and she bitterly scowled at him. Even with Margo's disappearance after her and Quentin's night together, Becca continued to be the thoughtless bully she was before, as evidenced by her getting into a fight with her and Margo's friend Lacey Pemberton at a party Jase was holding. She also falsely announced to the whole party that Lacey had chlamydia. In the end, though, Becca never faced the consequences of her actions.
Trivia
Caitlin Carver also portrayed the psychotic Alexis Palmer on Stalker, and later appeared as the evil Rachel Richards from the 2017 Lifetime film The Rachels.
Community content is available under
CC-BY-SA
unless otherwise noted.