Abigail
 (Keisha Ramdhanie) & 
Jessica
 (Kellie Ramdhanie) are villainesses from the second and final season of 
CryptTV'
s 
Stoneheart
 series. They were members of a therapy group led by a man named Darius. Their backstory revealed that the two were estranged from their parents, claiming that they were neglectful and had cut ties with them when Abigail attacked her and Jessica's sexually abusive therapist with a pen.
The girls first appeared in the season's third episode, "Twins", following main protagonist/anti-villainess Rebecca Baker after the therapy session. After seeing her get assaulted by a group of jocks and saved by her murderous protector, Aponi, who killed her attackers, the twins (Abigail especially) showed admiration in Rebecca's abilities and asked to her sidekicks. Abigail even helped finish off one of the jocks by stomping on his face in an attempt to impress Rebecca, only for her to leave, unnerved by the girls.
The next episode, "The Smell of Burning Ants", had Abigail and Jessica confronting Rebecca in the trailer she lived out of, revealing that Aponi had appeared to them and that they wanted to share in Rebecca's powers. When Rebecca revealed she couldn't summon Aponi at will, Abigail attacked Rebecca, causing Aponi to appear behind Jessica and threaten her. The witch then gave Abigail a vision of her parents, scaring her and her sister away. In the season and series finale, "Transference", the girls turned heel by kidnapping Rebecca after Abigail knocked her out with a rock. Later, the girls tied Rebecca to a chair and revealed the truth about the therapy group: Darius worked with Aponi to give Aponi girls to possess, and Abigail revealed her intention to take over as Aponi's "protege" and blasted Rebecca for (in her mind) wasting Aponi's abilities.
Aponi then appeared in physical form, killing Rebecca when she ordered her not to kill Troy (a therapy member who came to rescue Rebecca) and proclaimed she had never needed her. After that, Abigail appeared to kill Troy by slashing his throat (the episode's epilogue shows he survives), bowing to Aponi as she turned to face her and Jessica. But at that moment, Abigail was enraged to see Aponi choose Jessica to bestow her powers to, driving her to attempt to kill her sister with her knife. But before she could, Aponi stabbed her before allowing the evil Jessica to murder her sister, with Aponi looking on approvingly.
Gallery
Videos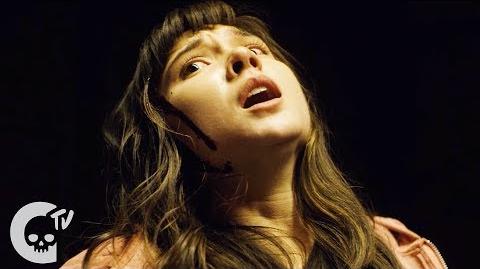 Community content is available under
CC-BY-SA
unless otherwise noted.