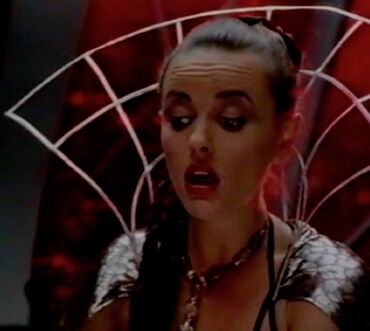 Vesper (Gia Carides) is the evil high priestess in the 1995 film, "The Adventures of Captain Zoom in Outer Space".
Vesper is the High Priestess for Lord Vox (Ron Perlman), who both hail from Vestron. Vox intends to conquer Pangea and uncover the lost ancient knowledge of their people. Vox uses her psychic powers to see things. Our first encounter with Vesper is when she envisions the arrival of Captain Zoom (Daniel Riordan) to the planet.
Vesper dresses in several sexy outfits including a black leather getup with a cape and a web like top that barely contains her large chest. Later she wears a purple corset and thigh high boots with red skirt and purple headdress that looks like something Gumby would be proud of.
Zoom is the hero, and is captured by Vox's troops and taken to the flagship. Electric shock treatment is used to force the hero to tell the truth. Vesper attempts to use her charms to get Zoom to speak. Unfortunately, Vesper knows that if she makes love with Zoom, then she will lose the ability to "see" the future, making her power useless to Vox.
Vesper is unable to hold back, and sure enough, after having sex, the spirit leaves her body and floats above her before disappearing.  Vesper has lost her ability to be psychic. At first she attempts to hide the fact from Vox. At the same time, Zoom escapes from the help of Princess Tyra (Liz Vassey), the native leader of the Planet Pangea, and they head back to the planet surface. Vox eventually figures it out, and banishes Vesper from his side, and she joins the rebels. Although Vesper is in love with Captain Zoom, she is also fueled by revenge against how she has been treated by Lord Vox.
Later, there is a huge fight between Vox and Zoom. While the two wrestle, Vesper is accidentally shot and killed.
Trivia
Gia Carides appeared as Julie Ames, the mistress in the 1995 film, "Bad Company".
Gia Carides appeared as villainess Robin (Spitz) Swallows in the 1999 film, "Austin Powers: The Spy Who Shagged Me".
Gallery  
Community content is available under
CC-BY-SA
unless otherwise noted.