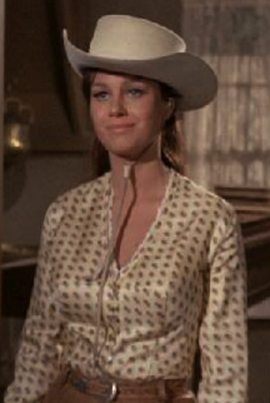 Sheila "Vixen" O'Shaugnessy (Lana Wood) is a redeemed villainess in the 1967 episode "The Night of the Firebrand" for the TV series "The Wild Wild West".
James T. West (Robert Conrad) is sent by President U.S. Grant to travel to Fort Savage and find the outlaw Sean O'Reilley (Pernell Roberts).  O'Reilley has been trying to incite a revolution in British Columbia, Canada.  When he arrived, he finds that the fort has already been taken control of by O'Reilley.  He is being assisted by Sheila, a senator's daughter who had been reported as kidnapped.  Sounds like a case of Stockholm Syndrome.
While West has O'Reilley at gunpoint, Sheila O'Shaugnessy hits him from behind with a club, and he is later tied to a pole by his captures.  Later, West finds out it was Sheila's suggestion to use dynamite.
Vixen as she calls herself, is a wide-eyed idealist though enthusiastic about her views, she is a little misguided due to the influence of O'Reilley.  She tells West that she is willing and eager to die for them, and also quite willing to kill.  She's even okay with letting women and children be massacred.  West calls her on this hypocrisy.
West manages to keep the fort from being blown up while Gordon sets out to infiltrate the revolutionaries.  Gordon then finds West being held captive.  Together they work to try to foil O'Reilley's plans, or a massive massacre will take place.
While West is in the process of escaping from the ropes that keep him binded, he engages in an embrace with Vixen.  When she becomes aware, West uses a pressure point to put her asleep, and then he escapes.
At the end of the episode, West, Gordon and Vixen are all in the caboose.  West tells her that her punishment is to go to Mrs. Primwick's finishing school, and get her back in the feminine fold.  When she begins to protest, West again uses the pressure point to put her asleep.
Trivia
Lana Wood appeared as Plenty O'Toole in the 1971 James Bond film "Diamonds Are Forever".
Lana Wood was the younger sister of actress Natalie Wood, who tragically died at the age of 43 in 1981 when she mysteriously drowned under suspicious circumstances.
Gallery
Community content is available under
CC-BY-SA
unless otherwise noted.