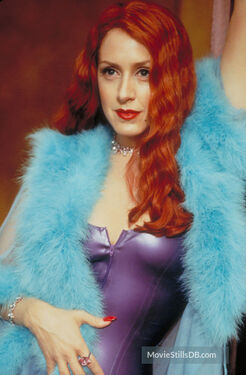 RoboBrenda (Joely Fisher) is an antagonist in the 1999 film "Inspector Gadget".
RoboBrenda is a robotic duplicate of Brenda Bradford, the love interest of Inspector Gadget (Matthew Broderick).  She was created by Claw (Rupert Everett) to be his henchwoman.
RoboBrenda is the opposite of Brenda.  Brenda is brilliant and a serious scientist.  RoboBrenda is not intelligent and very giggly.  She keeps her red hair long.  She wears a tight sleeveless purple catsuit made out of latex along with a diamond necklace.  In addition, she wears a long blue fur-lined sheer blue jacket.
She gets up in front of Brenda and tells her that she has been programmed to be a Cheerleader.  She proceeds to do a back flip and ends up flipping off the end of the building and crashing to the ground.
During the credits at the end of the film, RoboBrenda is seen teaching "robo-aerobics".  She speeds up so fast, that she falls off the stage.
Trivia
Joely Fisher appeared as Cassidy Miller in the 2014 Lifetime film Fatal Acquittal.
Gallery
Community content is available under
CC-BY-SA
unless otherwise noted.