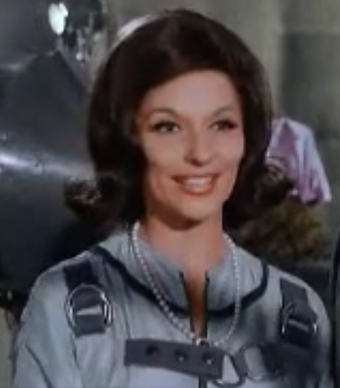 Rita Mitchell (Nancy Kovack) is a rich snobby movie star who appears in the 1965 episode "The Moving Finger" for the TV series, "I Dream of Jeannie".
Capt. Tony Nelson (Larry Hagman) is asked to appear on the set of a movie filming as an astronaut technical advisor or expert. He is given a picture of Rita that Jeannie sees on his desk.  She reads the caption under the picture that says that Rita has had six husbands, "who will be number 7".  Tony plays it off as not a big deal.
Jeannie (Barbara Eden) disguises herself as his personal secretary and they are introduced to Rita Mitchell who is going to play the astronaut in the film. Rita is immediately smitten with Tony, and ask him to come to her social gathering at her place in the evening. Jeannie invites herself to the party as well, and Rita reluctantly agrees that she can tag along as well.
When Tony and Jeannie show up at the door, Rita ignores Jeannie.  Jeannie tells Rita that they were late due to having much dictating that they needed to do.  Rita comments, "oh, well we're going to forget all about that", and whisks away Tony to show off to her friends.
Jeannie is jealous of Rita, who intentionally took Tony away from her. When it appears they are getting romantic on the terrace, as Tony has her hands all over her showing her about the astronaut uniform.  Rita does have ulterior motives, and she catches the subtle hints that Tony is showing her.  Just then, Jeannie blinks up a rain storm that begins to pour on the couple. Rita is humiliated with her hair and clothing getting drenched. Tony immediately yells up in the air to Jeannie telling her she has gone too far.
The next day, Jeannie finds out that Tony has made plans to go to lunch on a date with Rita, in order to make plans for the movie. Jeannie asks Tony if he would take her out if she was a movie star. He says, yes, which gets Jeannie thinking. She decides to become a movie star to compete with her "rival" for Tony's affection. Jeannie shows up on the set of a movie, and gets a screen test. Everything is going great, and everyone on the set loves her. However, when she has the viewing of her screen test with a director, she is not on the film. Since she is a genie, she is unable to be captured in film.
Tony breaks off his date with the lovely Rita to let Jeannie know that she is her star. We don't see Rita again in the episode, since this is the closing scene.
Trivia
Gallery