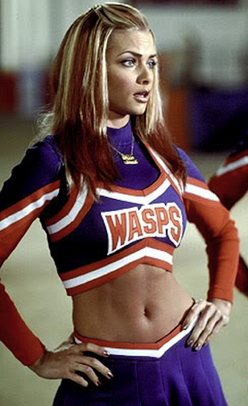 Priscilla (Jaime Pressly) is one of the antagonists in the 2001 teen comedy film Not Another Teen Movie.
Priscilla is the bitchy stuck-up cheerleader at John Hughes High School.
She separates from her boyfriend Jake Wyler (Chris Evans), the popular football star. She later begins dating Les (Riley Smith) just to spite him. Jake's friend Austin (Eric Christian Olsen) makes a bet with Jake to turn plain Janey Briggs (Chyler Leigh) into the prom queen.
Jake attempts to court Janey, who has been transformed into a drop dead gorgeous girl. Priscilla is obviously jealous of this, and because of it, she feels threatened by Janey.
There are several incidents where Priscilla attempts to bully Janey and make fun of her. While at a pool party, Priscilla pours a bottle of water down the front end of her dress, which brings Janey to tears and totally humiliated.
At the prom, everyone believes that the prom queen will be between Janey and Priscilla. However, they are shocked to find that the Fratelli conjoined twins are awarded the title.
During the traditional prom king and queen dance, Janey supposedly left with Austin to go to a hotel. Jake shows up to the hotel room only to find Austin having wild sex with a girl, but is shocked to find that it is Priscilla fully clothed and only pretending. Jake coldly punches Austin and Priscilla, knocking them unconscious for their part in Janey's humiliation.
Trivia
Jaime Pressly appeared as Violet in the 1997 film, "Poison Ivy: The New Seduction".
Jaime Pressly appeared as Mika in three episodes from 1998-1999 for the TV series "Mortal Kombat: Conquest".
Jaime Pressly appeared as henchwoman China in the 2004 movie "Torque".
Video
Gallery
Community content is available under
CC-BY-SA
unless otherwise noted.