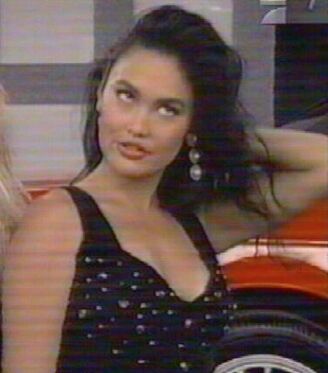 Piper Bauman (Tia Carrere) was a minor villainess in the 1990 episode "Kelly Bounces Back" for the TV series "Married...With Children".
Piper is one of the models auditioning for a commercial for a fancy sportscar called the Allante.  She is in direct competion to Kelly Bundy (Christina Applegate).  Both Piper and Kelly have been rivals and modeling school classmates.  In addition to Piper, there is also Rochelle Alpert (Debbe Dunning) and Incense Berkowitz (Joanna Goode), who are also auditioning.  They are all bitter rivals, and Bud strikes out with all of them.
Kelly's brother Bud wants to score some time with Piper, so he teaches Kelly's signature move which she invented called The Bundy Bounce.  Piper told him if he taught it to her, she would let him play with her hair.
When Kelly and Piper begin chatting before the audition, they get into it and start calling each other names.  Piper deliberately flips her hair into Kelly's face.  Kelly responds that she'll just wait until the pig calls stop and then follow after her hoof prints.  A violent confrontation ensues.
After Piper does her audition, she throws in the Bundy Bounce move and calls it "The Bowman Bounce".  Kelly is shocked, and Bud tries to pretend that he doesn't know how she learned it.  Miss Beck the stage director immediately has Piper begin to sign the papers for the job.
Back home, Kelly receives a pep talk from Marcy, who instructs her to go back and tell Piper how much she wanted the part, and that she'll probably appeal to her sense of fairness and get the part back.  The next scene we see is Kelly and Piper engaging in a one way catfight over the car.  She punches, chokes, grabs her hair, and does whatever she wants with poor Piper.  Kelly eventually knocks her out, and Kelly winds up with the job.  
Miss Beck, the casting director stops by and congratulates Kelly, and then wonders out loud, asking what happened to Piper.  Kelly nearly lets the cat out of the bag concerning the fight between she and Piper, makes an excuse for Piper's absence, saying it was "stage fight", before correcting herself and saying "stage fright".
Trivia
Tia Carrere appeared as villainess Juno Skinner on the 1994 film, True Lies.
Tia Carrere appeared as Akivasha in the 1997 film "Kull the Conqueror".
Tia Carrere appeared as a villainous scientist Joan Maxwell in the 2000 film, Merlin: The Return.
Tia Carrere also voiced villainess Snookie in Aloha in the 2005 episode "Aloha, Scooby-Doo!" for the TV series, Scooby-Doo!,
Tia Carrere appeared as human trafficker Chao Lin in the 2017 episode "The Enemy of My Enemy" for the TV series, Blue Bloods.
Gallery
Community content is available under
CC-BY-SA
unless otherwise noted.