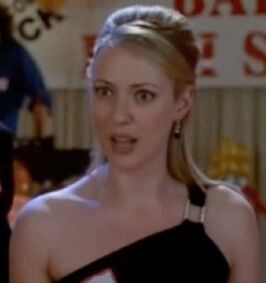 Paula Marks (Claire Rankin) plays a jealous wife of Todd Marks (Jeffrey Pierce) and the former classmate of Phoebe Halliwell (Alyssa Milano) at Baker High in the 2004 episode "Hyde School Reunion" in the TV episode, "Charmed".  Paula wears a black dress that comes down below her knees, and has one strap over her left shoulder.  She has a nametag sticker that says "Paula Starks", which is her maiden name.  She has blonde hair that is pulled back into a ponytail. 
At the high school reunion, Paula finds Phoebe talking to her husband Todd, and gets jealous.  Phoebe and Todd used to have a thing in high school, and Paula constantly picked on Phoebe in high school.  Paula tells Phoebe that in school she was a fake, and that she only lied, cheated and stole boyfriends.  Paula comments that while the rest of the world might think of her as "Ask Phoebe", she would always be Freebie to them.  After several more comments and taunting, Phoebe walks away and briefly transforms into her teenage self. 
Phoebe goes home with her sister Paige Halliwell (Rose McGowan).  Later Todd calls Phoebe to apologize for his wife.  Paula overhears the conversation and grabs the phone.  Paula calls her "Freebie" again, and Phoebe transforms into her teenage self again.  Phoebe called Paula a bitch, and then tells Paula she is coming for her.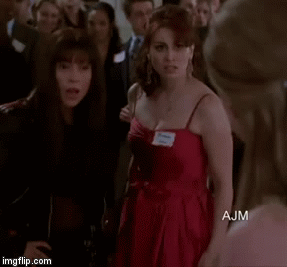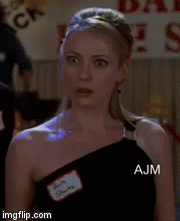 When Phoebe returns to the school reunion, she starts kissing Todd until Paula stops her.  Paula pushes Phoebe down, and Phoebe gets back up.  Phoebe has to be restrained by Ramona Shaw (Leslie Margherita), one of her friends, so she won't hit the jealous
Paula.  Paula threatens to sue her for abuse and said Phoebe must have deep pockets.  Phoebe tells Paula, that she may not be rich, but at least she isn't a bitch.  With that word, Paula shrinks down and into the form of a dog (bitch).  After Paula as a dog runs off, Phoebe casts a spell that causes everyone to revert to their teenage selves, and the party is on.
When Phoebe later reverses the spells, everyone's memories of past events are erased, and it is assumed the nasty Paula is returned to her beautiful self. 
Trivia
Gallery
Community content is available under
CC-BY-SA
unless otherwise noted.