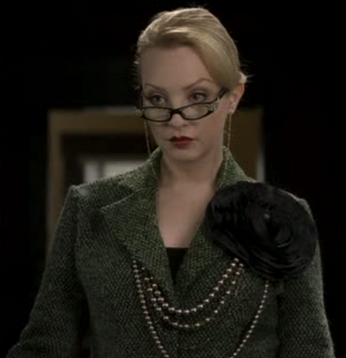 Ms. Stout (Wendi McLendon-Covey) is the main antagonist in the 2010 video "The Search For Santa Paws".
Ms. Stout is the selfish headmistress of a girls home.  She is greedy and treats the girls harshly.  Ms. Stout hates Christmas, or anything that will make her girls happy.  She is extremely abusive, mean and obnoxious so much that noe of the girls have any courage to stand up for themselves.  Her girls are home schooled and must do chores.
When she finds the girls have a doll one night, she snatches it from them and throws it in the incinerator in her basement.  The following day, she takes two of the girls to the basement and locks them there for being irresponsible.
Another night, the girls were singing with a toy dog named Santa Paws, that had magically come alive.  She burst in and discovered the dog, the girls wearing dresses, and the room decorated with Christmas decorations.  Ms. Stout confiscated Paws and took him to the basement, telling them that she would call the pound the next morning.  
Ms. Stout took the magic crystal from Paw's collar and was astounded by the intricate design.  The next morning, she discovered that Paws was turned back into a toy.  Ms. Stout assumed that they had allowed Paws to escape.  Therefore, she took the toy dog and threw him into the incinerator.
After returning with her boyfriend Franklin, she was greeted by Mrs. Gibson who found out that she had left them alone the previous night.  She lied, saying that she and Franklin were out looking for Will and Quinn.  However, Mrs. Gibson didn't believe her, and told her that she was no longer permitted in the house.  Ms. Stout accidentally hit Franklin with her handbag and the two of them fell down the steps into a heap.  This is the last we see of the evil Ms. Stout and Franklin.
Gallery
Community content is available under
CC-BY-SA
unless otherwise noted.