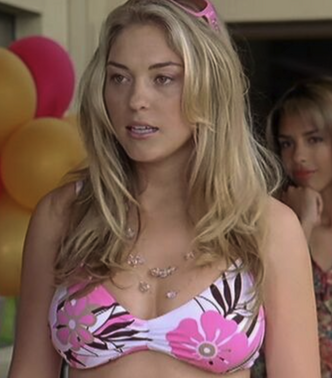 Miriam Kent (Annabelle Stephenson) is an antagonist of Season 1 (2016) for the TV series "H20: Just Add Water".  She appeared in 13 episodes.
Miriam is a popular girl and antagonist of the mermaids.  She always wants to be the center of attention and would do anything to get there.  Her attempts at mischief often end badly for her, sometimes dangerously as when she is accidentally frozen by Emma in an attempt to get her and Rikki fired.
She is first seen in episode 2 "Pool Party", where she invites people to her house.  Later Miriam plans to enter a Queen of the Sea beauty competition.  Cleo's mermaid journal is discovered by Kim, and it says that she plans to enter the competition as a mermaid.  Therefore, Miriam beats her to the punch and enters as a mermaid.  Elliot soaks the entire pageant with a fire hose, and Kim runs out to try to "expose" Miriam, tearing her tail in an attempt to prove it is real.  Costume and makeup ruined, Miriam is humiliated.
In an attempt to get Emma and Rikki fired, Miriam sneaks into the JuiceNet Cafe's back room and turns off the freezer.  When Emma comes back to investigate, Miriam hides in a corner, and is accidentally frozen solid by Emma.  The mermaids find her the next morning, and reluctantly bring her back to health using Rikki's water healing ability.  Miriam does not remember what happened when she is unfrozen by Rikki several hours later.
Miriam buys a locket that Rikki wanted from a jewelry shop to make her jealous.  When Zane tries to get it back, Miriam agrees to give it to him in exchange for a kiss on the mouth to Rikki's clear dismay.  When Zane runs off to explain, Miriam, now willing to "part" with the locket, throws it into the harbor.  Zane manages to retrieve it.
Miriam is not seen or heard from after the epsisode "Love Potion #9", when she mocks Rikki's sudden redness (an unfortunate side effect of Lewis' water repellent formula).
Gallery
Community content is available under
CC-BY-SA
unless otherwise noted.