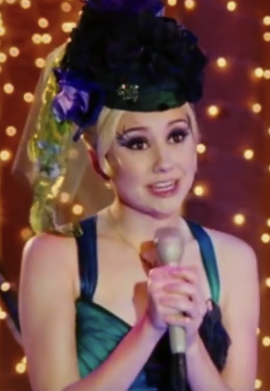 Meredith Baxter-Dimly (Chelsea Staub Kane) is the main antagonist in the 2007 comedy film "Bratz: The Movie".
Meredith Baxter-Dimly is a rude, self-centered girl who is the most popular student at Carry Nation High School.  In addition, she is the student body president of her school.  She is friends with Avery (Anneliese van der Pol), Quinn (Malese Jow), her two sidekicks, and Cameron (Stephen Lunsford), who is her love interest.
Meredith is the daughter of Principal Dimly (Jon Voight), and lives at a huge home along with her younger sister Cherish (Emily Rose Everhard), and her dog Paris.  At school, she controls everything from where everybody sits to the activities that they join.
However, that soon changes when some newcomers to her school, Cloe (Skyler Shaye), Yasmin (Nathalia Ramos), Sasha (Logan Browning), and Jade (Janel Parrish), who are known as the Bratz, disband the cliques.  Meredith tries to separate and destroy them for "creating anarchy in her kingdom".
While lounging around at her own pool along with her friends Avery and Quin, she is given an incriminating video from Yasmin's younger brother, who is smitten by her.  Meredith decides to throw a second "Super Sweet 16" party for herself, since her first party marked the height of her popularity.  She was going to use the invitations to bring "organization and harmony" back to her school.  The Bratz girls weren't invited but they still ended up going as they had to be the servers there, since Cloe's mom lost the original ones.  However, Meredith tried to humiliate them by having them dress as clowns.
The party was filmed by MTV because Meredith's mom is best friends with the producers.  At the party, Meredith sang a song called "Fabulous", where she came down from above siting on a ring shaped swing.  After singing the song, she embarrassed Yasmin by bringing her up on stage.  As a result, Yasmin got stage-freight, and then Meredith played the video on the jumbotron of Yasmin singing at her house in a night mask.
Meredith later sings the song "It's All About Me" at the school's talent show.  She is upstaged by the Bratz, who sing a song together.  Meredith wins the talent show, again.  However, the Bratz got the scholarship into the college of their choice.
When the credits come up, Meredith is seen spying from the roof with her dog Paris and her father at the Bratz' red carpet premier.
Gallery
Community content is available under
CC-BY-SA
unless otherwise noted.