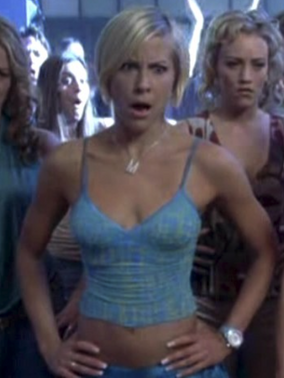 Megan Vandergeld (Brittany Daniel) is an antagonist in the 2004 comedy film
White Chicks
.
Megan and her sister Heather Vandergeld (Jaime King) are rivals of the sisters Brittany and Tiffany Wilson for the cover of Hampton Magazine.
A date with Marcus/Tiffany is then auctioned off to pro basketballer Latrell during a charity dinner, much to Marcus's fear and Heather's jealousy.  Heather had her boyfriend Marcus try to ruin Copeland's time at the beach. Their joy in ruining their time went away when Marcus threw the football back at Marcus, injuring them.
Marcus and Kevin beat Heather and Megan in a dance-off hoping to help Karen win Heath only to have Heather drag him off. They later challenged Wilsons sisters' friends into dance off. Just when they were about to win, the Copelands entered the dance floor and embarassed the Vandergeld sisters. Karen is seen vomiting in the bathroom, drunk and unintentionally slips to Marcus and Kevin that Warren Vandergeld is penniless, and has only recently paid Karen's own father back for loans he has lent him. Later on, Kevin and Marcus then realize that Mr. Vandergeld has been behind the kidnappings, using the ransom money to keep his family in their luxurious lifestyle. 
At the fashion show, Kevin and Marcus replace the Vandergeld sisters on the catwalk which angers them and attempt to humiliate the Wilson sisters. Marcus stands up for Karen after she tells Heath she's tired of waiting for him and he callously brushes her off. After the Vandergeld sisters are foiled by the trio and humiliated off the catwalk, after they were kicked out of the pageant, Heather and Megan tried to sabotage the fashion show. Their plan was discovered by Tori, Karen and Lisa who knocked them off the scaffolding down onto the stage and they were covered in red paint. 
Gallery
Community content is available under
CC-BY-SA
unless otherwise noted.