Marie (Denise Perrier) is a minor antagonist in the 1971 James Bond film, "Diamonds Are Forever".
Marie is either a member/agent of SPECTRE, or simply affiliated with Ernst Stavo Blofeld (Charles Gray).
James Bond (Sean Connery) is tracking down the whereabouts of Blofeld.  He begins by encountering a man in a casino who advises him to ask Marie.
Next we see Bond tracking down Marie, who is sunbathing in a gold bikini as she thumbs through a magazine.  It appears that Marie is actually happy to see Bond, and she poses in her bikini as he approaches.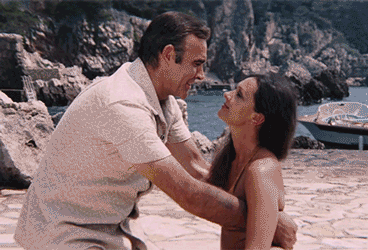 Marie asks James who he is and he introduces himself.  She asks him if there is something she can do for him, and Bond responds that "there is something I'd like to get off your chest".  With this, Bond rips off her bikini top, and she seems to be a little turned on by this act.  However, this is short lived, as Bond proceeds to choke her with it and Marie begins to panic.  Bond asks Blofield's location, and Marie gives it to him.  
This is Marie's only appearance in the film, which is disappointing.  Her current status is unknown.  More than likely, she survived the choking, and Bond allowed her to live after receiving the information he asked for.
Gallery
Community content is available under
CC-BY-SA
unless otherwise noted.