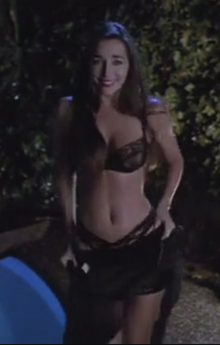 Dominique (Carole Davis) is a minor villainess in the 1990 comedy film "Shrimp on the Barbie".
Dominique is the best friend of Alex (Emma Samms), who is attempting to gain her father's acceptance of her playboy type boyfriend Bruce (Vernon Wells). Alex's father is a rich Australian tycoon, who does not like Bruce. The group meets at a Mexican restaurant, where Carlos (Cheech Marin) is working as a waiter. Things go drastically wrong, when Carlos accidentally drops a hanging piñata down upon their dinner table, which explodes the large cake upon all that are seated around the table. This includes the gorgeous Dominique who is dressed in a low-cut maroon gown with opera gloves.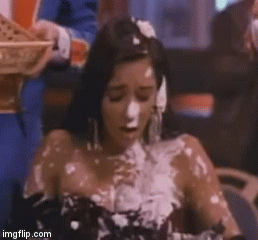 Later her father tells Alex, that he would accept anyone other than Bruce, which gets Alex thinking. She quickly hires Carlos the waiter to pose as an obnoxious new boyfriend. She does this in an attempt to make her father accept her current boyfriend Bruce.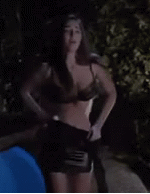 Bruce ends up being a real dirtbag. He and Dominique betray Alex end up together at an upscale restaurant, where Dominique begins doing a strip dance for Bruce on top of the roof. After drinking many glasses of champagne, the two end up in what they think is a jacuzzi. However, the jacuzzi is actually a large fish tank that is the centerpiece of the restaurant lounge below. Therefore, the whole crowd witnesses both Dominique and Bruce dancing around with their clothes off.
Carlos ends up confronting Bruce outside their hotel room the next morning, and the two engage in a fight. Carlos is beaten up in the process, but never mentions Bruce's infidelity to Alex. However, Alex's father has hired a private investigator who has taken pictures of Dominique and Bruce, and also shows Bruce beating up Carlos.
At a big party for Dominique, she outs both Dominique and Bruce with a slide show of the pictures taken by the private eye. As Dominique gets up to leave after being humiliated in public. Alex, asks where she is going. She then grabs the cake, and smashes it into Dominique's face. After receiving her comeuppance, Dominique walks out along with Bruce. Carlos is given money by Alex's father to start his own restaurant.
Trivia 
Carole Davis appeared as the evil spy Areola Canasta in the 1991 film "If Looks Could Kill".
Gallery 
Community content is available under
CC-BY-SA
unless otherwise noted.