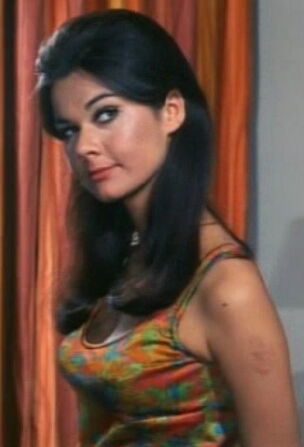 Cleo (Imogen Hassall) is a minor antagonist in the 1968 episode "Reply Box No 666" for the TV series "The Champions".
Cleo appears at the very beginning of the episode, when she arrives at the Jamaican hotel room of a French businessman.  The man Semenkin (George Roubicek) is a young explosives expert posing as the French businessman.  Semenkin works for a United Nations law enforcement organization called "Nemesis", based in Geneva.  He has invited the young lady to his room to help him relax.  However, Cleo has been hired to distract him and seduce him.
While they are in the middle of an embrace, an assassin enters the room and the two men begin fighting.  Having accomplished her assignment, Cleo slipped out the door.  When Semenkin reached for his pistol in his discarded coat pocket, the assassin through a knife into his back, and Semenkin was killed.
In the pocket of his jacket appeared a newspaper advertisement: "Wanted: A Parrot that Speaks Greek.  Reply Box 666", in which the sixes had been changed by Semenkin to eights, as some kind of secret code.  Craig Stirling (Stuart Damon) is sent to Jamaica to assume Semenkin's identity.
Trivia
Imogen Hassall appeared as Nadya in the 1966 episode "Flight Plan for the British TV series "The Saint".
Imogen Hassall appeared as Ayak in the 1970 British prehistoric Hammer horror film "When Dinosaurs Ruled the Earth".
Imogen Hassall appeared as vampire Chriseis in the 1970 British horror film "Incense for the Damned".
Gallery
Community content is available under
CC-BY-SA
unless otherwise noted.