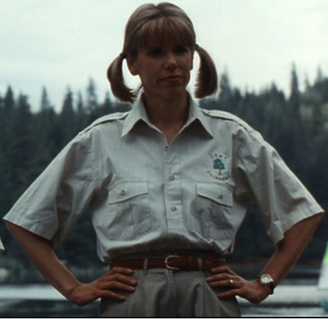 Becky Martin-Granger (Christine Baranski) is a minor antagonist in the 1993 comedy film "Addams Family Values".
Becky along with her husband Gary Granger (Peter MacNicol), are the owners and directors of Camp Chippewa, which they say is "America's foremost facilty and camp for priviledged young adults".  In actuality, it is a summer camp primarily for snobby upper-class children, where they treat the white, blonde, richer kids with extreme favortism while looking down at the non-white, overweight, and handicapped children.
Becky is very perky and overzealous as her husband, and they attempt to alter the personalities of Wednesday Addams (Christina Ricci) and her brother Pugsley (Jimmy Workman).
At the end of the weekend, she rehearsed the Choppewa girls to perform the first number in the Thanksgiving reenactment play, Eat Me.
At the end of the play, the "less priviliged" campers rebel against Gary and Becky.  They burn the village set, tie up Amanda Buckman (Mercedes McNab), launch other pilgrims into the lake, throw pies at the parents in the audience, and tie up Gary and Becky to a spit with an apple stuffed in their mouth.  While on this spit, some of the rebelling campers turn the handle that rotates the couple over a roasted bonfire.  This is the last we see of the Grangers, as Puglsey and Wednesday are seen canoing off in the distance.
Trivia
Christine Baranski appeared as Maryann Thorpe, the best friend of Cybill (Cybill Shepherd) who humiliated Andrea Thorpe (Morgan Fairchild) in the 1996 episode "Wedding Bell Blues" for the TV series "Cybill".
Christine Baranski lent her voice to the villainous Amelia von Butch in the 2005 direct-to-video Scooby Doo in Where's My Mummy?
Christine Baranski appeared as the evil Amanda in the 2011 TV film, Who Is Simon Miller?
Gallery
Community content is available under
CC-BY-SA
unless otherwise noted.