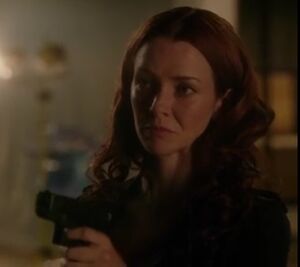 Yvonne Kurtz (Annie Wersching) was the main villainess from "Abducted," the two-part third and final season premiere of Body of Proof (airdates February 19 and 26, 2013).
Yvonne Kurtz was Dr. Harvey Wallace's chief nurse, and in Part 1, she was questioned regarding the deaths of five military vets, who were all being treated for PTSD and all found with their spleens removed. Wallace was a suspect in the murders, but Yvonne was revealed to be the culprit beginning in the end of Part 1, when she attacked Megan Hunt's daughter, Lacey, and abducted her. In the final scenes, Yvonne phoned Megan and threatened Lacey's life if she didn't follow through with her demands.
In Part 2, Yvonne ordered Megan to retrieve a bomb from one of the bodies she was working on; meanwhile, Megan was on call regarding the body of a young girl, revealed to be the daughter of another doctor who Yvonne forced to do her surgeries. Yvonne stated that she killed her to send a message, and then she revealed her villainous motive to Lacey. She mentioned in Part 1 that her husband was a vet fighting in Afghanistan, but she revealed in Part 2 that he had PTSD and committed suicide. Yvonne felt that her husband was ignored in the days leading to his suicide, so she planned to use the bomb to blow up a plane just to make her point.
Once Megan reunited with Lacey, Yvonne ordered Megan to instill the bomb into surviving vet Karl Simmons, who voluntarily colluded with the villainess. After the job is done, Yvonne states that she has no intention on sparing her and Lacey. At that moment, Megan went after Yvonne, with the distraction allowing Lacey to escape. Yvonne points her gun at Megan with intent on killing her, only to be shot to death herself by Tommy.
Trivia
Annie Wersching also appeared as recurring villainess Dr. Kelly Nieman from Castle.