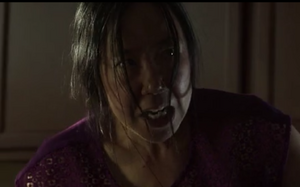 Sun-Yi
 (Sharon Gee) is a villainess from the 2018 horror-comedy, 
Mom and Dad
. She is the housekeeper for the Ryan family.
Sun-Yi also lives in the Ryan home with her young daughter, Jin-Lisa, and she was shown performing her duties in the film's early scenes. Sun-Yi turned heel later in the film, when she suddenly bludgeoned Jin-Lisa to death with a meat tenderizer. The murder was witnessed by Josh Ryan, and it was committed in the kitchen much to Josh's shock. The film revealed that a flash of static had been causing parents to suddenly snap and murder their children, and the static was the direct cause of Sun-Yi's heel turn.
After the murder, the evil Sun-Yi appeared in a pair of later scenes--the first one showing her on the phone with Kendall after her sister attempted to kill her newborn baby. Later on, Carly and Damon encountered the villainess as she was mopping her daughter's blood--with both expressing shock over seeing the mop covered in blood. She snarled over inability to clean up the floor, after which Carly ejected Sun-Yi out of the house.
Community content is available under
CC-BY-SA
unless otherwise noted.