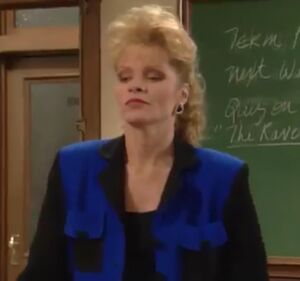 Dottie McGowen (Linda Gibboney) is the main villainess from "Teacher Pets," episode 6.21 of Married...With Children (airdate April 5, 1992). She is Bud Bundy's substitute English teacher, but as the episode progresses, she is revealed as a femme fatale who seduces students.
In the episode, Miss McGowen had been making seductive glances at Bud, which Bud quickly points out--only for his claims to be met with disbelief. One day in class, Bud spends most (if not all) of the time checking out his flirtatious teacher, prompting Miss McGowen to confront Bud after class. At that moment, Miss McGowen turned heel and responded to Bud's glances by making out with him, with the villainess continuing her session with Bud continuing on her desk.
Word of Bud's tryst has made him popular and increased his stock with women, mainly classmate Darlene. However, at episode's end, the evil Miss McGowen left Bud for another student; a football player. It was revealed that Miss McGowen left Polk High and ran off with her new lover.
Videos
Community content is available under
CC-BY-SA
unless otherwise noted.