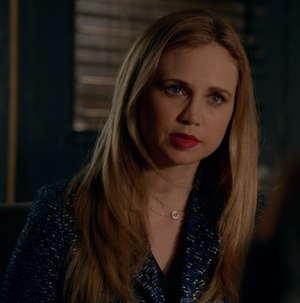 Linda Weinberg
 (Fiona Gubelmann) is a hidden (remorseful/redeemed) villainess from "Tone Death," episode 8.09 of 
Castle
 (airdate February 8, 2016). She is a lawyer and the wife of fellow lawyer Scott Weinberg.
The couple were the founders of the No Backslide Partnership (NBP), a non-profit arts group designed to help ex-convicts stay straight. One such ex-con was Robyn King, a 20-year-old former drug dealer who was found dead in the episode's opening scenes. Robyn was convicted of grand theft auto, reckless endangerment, and destruction of private property when she crashed a car into a Long Island house after she was attempting the sell drugs at a party two years prior. Linda claimed to have met Robyn when she started the program, but the investigation revealed that she knew Robyn during that night two years ago.
As it turned out, Linda was at that same party and she was the the one who crashed the car, with Robyn as her passenger. After the crash, Linda left the scene and as a result, left Robyn to be accused, arrested, and convicted of the crime, and a day later, the villainous Linda bribed then-officer Dan O'Grady into giving her the evidence from the case. She paid O'Grady $50,000 for the contents, but her main objective was to regain her scarf, which was the main object that could connect her to the crash. 
After a photo of Linda and Robyn at the party was uncovered, along with O'Grady's reveal regarding the evidence, Linda was interrogated by Kate Beckett regarding her revealed true role in the car crash. The villainess denied everything at first and claimed that she gave the scarf to Robyn as a gift, claiming that it was Robyn's all along, but after Beckett uncovered Linda facing being kicked out of law school as a motive, Linda confessed. She stated that she panicked after the crash and following Robyn's release, she started NBP out of guilt for what she had done to Robyn. Because of this, however, Linda was suspected of killing Robyn, under the belief that she did so due to Robyn finding out the truth. Linda denied killing Robyn, stating that she was in Philadelphia on business during the murder, and expressed shock when she realized who else knew her villainous secret. That someone else turned out to be her husband, Scott, who killed Robyn during a confrontation and was arrested when he was revealed. Linda's fate, however, wasn't revealed.
Trivia
Exactly a week later, Fiona Gubelmann appeared as recurring villainess Kelly on Telenovela.
Community content is available under
CC-BY-SA
unless otherwise noted.