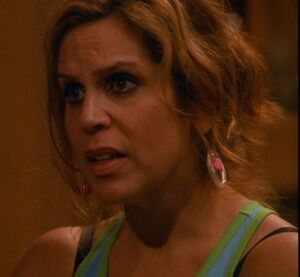 Kathy Weber
 (Lori Alan) is a villainess from "Strike Three," episode 5.07 of 
The Closer
 (airdate July 20, 2009). She is the mother of 18-year-old Kevin Weber, who was found shot to death along with a pair of police officers.
While Major Crimes on the case of the deceased officers, Capt. Sharon Raydor was on her own case due to the fact that the officers had shot Kevin, despite Brenda Leigh Johnson's claims that Kevin was part of a gang. Sharon and Major Crimes visited Kathy at her home, with Kathy expressing her indignation over police being at her home. Hints of Kathy's heel persona came shortly afterwards, when she referred to Sgt. David Gabriel as "boy," after which she rudely answered Brenda's questions about her son by stating that Kevin doesn't have friends and that he wouldn't borrow her pickup truck without asking, before telling them to leave.
At that moment, Sharon (despite Brenda's protests) informed Kathy that Kevin had been murdered, with the villainess lashing out at Sharon in denial, after which she told detective Julio Sanchez not to touch her due to not wanting to be touched by Mexicans, establishing Kathy as a bigot. Her racism was further cemented when Brenda and Sharon went to Kevin's room and saw swastika drawings and a Nazi flag, which revealed that Kevin was with an Aryan gang, with the evil Kathy also practicing and preaching her racist beliefs (assumingly) to her son. Kathy's fate following her interview wasn't revealed.
Trivia
Lori Alan is best known for lending her voice to anchorwoman-turned-villainess Diane Simmons on Family Guy, and appeared as the evil Gina Carlson on Bones.
Community content is available under
CC-BY-SA
unless otherwise noted.