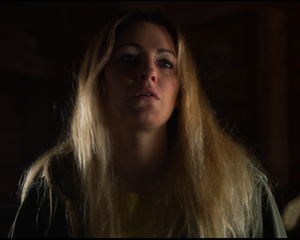 Faith McLanden (Blake Lively) was the hidden secondary villainess from the 2018 film, A Simple Favor.
Backstory
Faith McLanden was originally part of a set of triplets, but while she and twin sister Hope were born healthy, their sister--named Charity--was stillborn. Hope and Faith's backstory revealed that they came from an abusive household, with the violent torment coming from their father, who was shown beating one of the sisters after both were dragged away from a party. Hope and Faith decided to set a fire inside the house in an intentional plan to kill their father, which was successful, and after this, the pair decided to go their separate ways.
Events & Death
While Hope built a life for herself in New York under the name to Emily Nelson, Faith was struggling to get by, and it was indicated that she developed a drug addiction. During the events of the film, Faith contacted Emily/Hope and arranged a meeting with her sister at their former bible camp, which marked the first time the twins had seen each other in 14 years. Faith informed Hope that she was out of money, and she shockingly revealed that she planned to confess everything to the police, stating that while they may go down, at least they'll be together. However, the evil Faith demanded $1 million from Hope, doing so in exchange for her silence. The villainess left the cabin and went swimming in a lake, with Hope later joining her and hugging her sister after expressing regret over the long distance between them. Shortly afterwards, Faith ended up drowned by Hope and was left to be posed as Emily as part of Hope's heel turn and her $4 million insurance scam.
Gallery
Community content is available under
CC-BY-SA
unless otherwise noted.