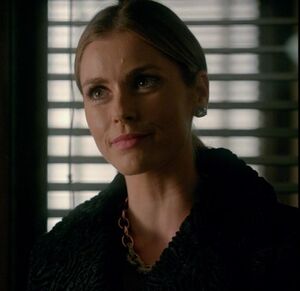 Eva Whitfield
(Brianna Brown) was the hidden secondary villainess from "I, Witness," episode 7.13 of 
Castle
(airdate February 2, 2015). She was the second wife of Cole Whitfield, and the old college acquaintance of Richard Castle.
Eva was shown early in the episode approaching Castle regarding her failing marriage, which was due to Cole having an affair with the wife of his business partner, Robert James. As revealed later on, Eva turned heel after finding out about the affair, doing so by colluding with James and lawyer Aubrey Haskins in an evil plot to set up Cole. The scheming villainess participated in a plan to fake her own murder and implicate Cole in the crime, which had Eva "killed" by Robert (who posed as Cole) in the Whitfield household. The "murder" was witnessed by Castle, which was part of the plan, leading to Cole being the prime suspect.
As a result of the scheme, the evil Eva would receive Cole's fortune once he's convicted. After the set-up, however, Eva began to have cold feet and had planned to come clean regarding the ruse. This led to a confrontation with Aubrey and Eva at the latter's studio apartment, which ended with Eva bludgeoned to death by Aubrey.
Trivia
Brianna Brown also appeared on Criminal Minds as villainous femme fatale Megan Kane, and on The Mentalist as the evil Krystal Markham.
Brianna Brown later played recurring villainess Claudia Blaisdel on The CW's Dynasty reboot.
Gallery
Community content is available under
CC-BY-SA
unless otherwise noted.