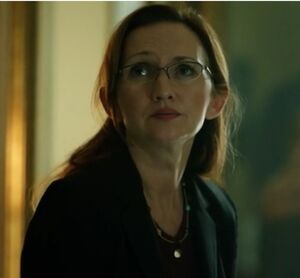 Dr. Monika Harper, aka Djerica Simonovic (Svetlana Efremova), is the main villainess from "Out of the Past," episode 1.07 of Motive (airdate March 21, 2013).
Backstory
20 years prior to the episode's events, Djerica Simonovic was stationed in war-torn Bosnia as a pediatric surgeon, but in actuality, she was a Serbian plant with orders to eliminate Muslim children during the conflict. During her villainous mission, Djerica met and bonded with Hank Cousineau, a soldier who was stationed in Bosnia in a peace-keeping mission from the UN. However, Hank learned Djerica's true role and actions, leading to a verbal confrontation, with the villainess defending her actions with her backstory involving Muslims killing her family in the war.
Events
Djerica fled from Bosnia and landed in Vancouver, changing her name to Monika and marrying Canadian citizen Phillip Harper, while also raising a child with Phillip. The newly renamed Monika Harper worked as a pediatrician entering the events of the episode, but was later discovered by Hank, who was discharged with PTSD and worked at a news shop. She was confronted at her home by Hank, who threatened to expose Monica's secret as a murderer and war criminal. On the following day, after leaving work, the evil Monika followed Hank and injected him with a muscle relaxant, which paralyzed him. She later continued to defend her mission to Hank, right before she slashed his throat and killed him.
Detectives Flynn and Vega pieced together the backstory between Hank and Monika, leading to a confrontation with the latter at her home. In front of Phillip, Flynn revealed Monika's evil past in the war, as well as her role in Hank's murder, to which Monika boldly and callously defended without remorse. After the interrogation, Monika was arrested.
Trivia
Svetlana Efremova also played villainess Floria Stenzel on The Closer.
Community content is available under
CC-BY-SA
unless otherwise noted.